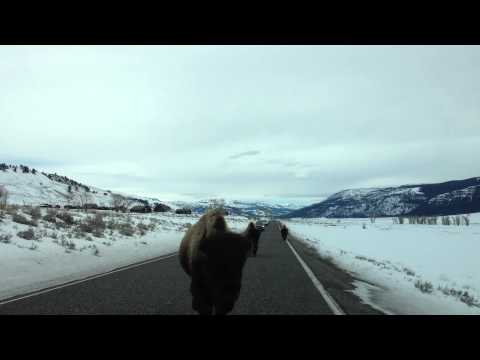 This Yellowstone bison did not like that this car was in his way. Yellowstone visitor Tom Carter took this video of the charging bison near Lamar. Valley.
The insurance agent for the vehicle's owner said the head-butt did almost $2,800 in damage.
Reminds me of this gentle reminder we ran with our Glacier mountain goat story last summer about the rules of wildlife interaction in national parks.
 As usual, the rules are there for a reason.
Speaking of national parks: We're heading to Yellowstone to do some exploring in our upcoming special Park-to-Park issue. Subscribe today and don't miss a Montana moment.
– Jenna 
Submitted by Mack W. Borgen
I left Montana this month. Probably for the last time. I refuse to be sad, but even as I sit in the warmth of the California sun, I miss Montana. I always will.
For now, I just need to get this story down before the sights, the sounds, the thick quiet of the woods, and the many memories of my Montana fade with time.
I am not objective about Montana – for I am a part of it, and it is a part of me. It is not where I grew old, but it is where I grew up.
It is impossible to well describe Montana. It is more than the high mountains, the rivers and lakes, the deep forests, the dark winters, and the endless summers. Words cannot capture the expanse of the big skies, the open miles of the Big Open, or what it is like to drop down Paradise Valley into the Clark Fork, to cross over Chief Joseph Pass into the Bitterroot Valley, to watch the clouds creep over the Swan Range, to drive the paved ribbon of the Hi-Line, or to feel the sweeping winds of the plains.
The names and memories in my reflections just keep coming. Cut Bank and Plentywood, Roundup and Red Lodge, Missoula and Miles City, Big Timber and Butte and Bozeman. The Gallatin and the Beaverhead, the Flathead and the Yellowstone, the Musselshell and the Missouri – and yeh, in Montana, the Missouri is a river, not a state.
Montana, like all places, has its problems. There are school yard bullies. There are barking dogs and grumpy neighbors. There are rainstorms that won't quit, and everyone gets a bit of the lonelies every now and then. Like all places, there are some stubborn bureaucrats, and I have had good and dear friends suffer from the whims and wrongs of conflicted, small-town politicians. Worse yet, good jobs are hard to find, and the bars  stay open far longer than the churches. Too many quarters are dropped at the roadside casinos, and too many dollars are spent on payday beers. Some say that Montana itself has been lost ever since the mines were closed and the logging was shut down. Maybe it's not surprising that Montana doesn't really know what to do with the flocking tourists or the shopping Canadians who flood the borders. And Walmarts and strip centers have carved their way into the skyline, and the roads can get choked with RVs — but it is still good and the greatest wonder of Montana is not the ridgelines, the mountain trails, or the fishing. It is the people.
Montana is a tough place to live – wonderfully so. And maybe that too is part of the reason that Montana is home to some of the best people – best in all of the ways that matter.
Montana is where all of my family — three generations now – are buried and where the rest of us will join them soon enough. And Montana is home to some of my best friends — best, again, in all of the ways that matter. I have been blessed with knowing an artist friend who paints glory onto canvas and spreads a caring radiance wherever he goes. Another friend of mine from high school moved to Montana many years ago and, with his wife and family, built an incredible home and life deep in the woods – not off the road, but deep in the woods.
I have lived there so long that I have outlasted most of my neighbors, now long deceased, who read their way and hobbied their lives though the long winters and who came out each spring and re-planted their gardens.
I have lived there long enough to watch my son play baseball and football – night after night – in the cold, pouring rain – never thinking to stop or pausing to complain.
I lived there long enough to know my stretch of the river like the back of my hand; to watch geese hover on ice shelves and bald eagles drift downriver on ice floes; to see my wife feed the deer and track the animals in the snow; and to hold my breath as my son dove to the cold river bottom just to snag a few turtles to keep as one-hour pets.
But again, it's the people.
There's a lot of talk in our society about entitlement and taking, but there's little sense of either in Montana. The people have their hopes. They say their prayers. But they keep their dreams close – like the personal treasures which they are. The people ask for little, and they don't expect much. Flash is for losers, and boasting has no place. Maybe it's OK elsewhere, but in Montana people aren't allowed to round the truth or break their word. Handshakes still means something.
People expect to work; embrace the hardships. They ride with their truck dogs and keep an eye on their winter money. Fathers work. Mothers work. Nothing is really easy, and everybody has two jobs. The lucky ones have three. People split their rounds for firewood; shovel their snow tunnels to the door; shop in the thrift stores; bring food to the needy, and help out their neighbors whenever they can.
Our babysitter gets up in the dark and waits for her school bus every morning. She waits in the cold; standing solitary in the dark and at the end of her road. Some days she's lucky, and it's not raining. Some days she's lucky, and it's not snowing. And she never thinks twice about the 45-minute ride to school – or the 45-minute ride home at the end of her day.
When compared with the hustle and bustle of the cities, some of the highlights of Montana life seem modest — the IGA chicken, the Dairy Queen that never closes, and the county fairs and Fourth of July parades that are a big things.
You can't get Montana onto a postcard, but if you are lucky – as I have been – you can keep the memories and try to be better. But, once again and as said so often, it's all good.
Maybe this story is too sloppy, too touchy, too feely — but even those words are city words, and a head bob from the neighbor down the road is still a lot better than another eblast from Macy's or press release from Goldman Sachs.
It's not my place really, but in closing, allow me to encourage you to find your own Montana. Montana is not the only Last Best Place. Yours may be in the mountains of Colorado, in the woods of Maine, or in the Blue Ridge of North Carolina, but almost wherever it is, your Montana is there for you. Don't get buried in the clamor and procrastination of life. Don't listen to what "they" say. Wherever your Montana is — you can still get there  …. from wherever you are now.
Submitted by Philip Downs 
Read more aboubt Robert Sallee here
Robert Sallee passed away this past May 26. His name may not be familiar to you, but it is a name that stirs my soul, floods me with memories of my father, and causes me to reflect on the quiet strength Mr. Sallee exemplified.
When you are 10years old the world is a huge, fascinating place full of energy and possibility. Ten-year-old children are fully engaged in the process of measuring themselves against it. They swim, run, climb, experiment with the laws of physics and get dirty exploring all that God has provided just for them. The intensity brought to bear in these activities is due to an unconscious awareness in the back of their minds of Ernest Becker's famous quote, "to live fully is to live with the awareness of the rumble of terror that underlies everything."
The world is never bigger than it is to a 10 year old and, when the rumble of terror reveals itself, the lessons it teaches them are intense and can capture their imaginations for their entire lives.
My father and I both spent our childhood summers in the Upper Peninsula of Michigan and in our respective tenth years, the rumble of terror captured our imaginations and continued to haunt and teach us.
For me, it was the 1975 wreck of the Edmund Fitzgerald. There are few little boys who are not fascinated by the Legend of Big Fitz. That I have seen third grade art projects, lovingly created, with Gordon Lightfoot's commemorative song "Wreck of the Edmund Fitzgerald" playing on a loop as background music, testifies to the visceral attraction of nature's fury and the emotional shock of mankind's failure to overcome it. The mysteries conjured by that November night never let go of the children who hear their siren calls. My son played a cassette tape of Mr. Lightfoot's classic song until it broke. For my son, how the cassette broke is yet another mystery grown out of a fateful night. But not for me…I can only take so much.
In 1949, a small fire in Montana near the Gates of the Rockies turned into an inferno within minutes, killed 13 elite smokejumpers, scarred the lives of three others, and radically changed the study and practice of fighting forest fires. This was the Mann Gulch fire and was my father's rumble of terror.
When I was 27, Norman Maclean's "Young Men and Fire" was posthumously published. My father rushed out and bought two copies of the book, one for him and one for me. The book is a fabulous telling of the Mann Gulch fire, part history, part science, part philosophic, and part mystery novel. We read the book together and had long discussions about it: Maclean's fantastic prose, the beauty of the terrain, the romance of the smokejumpers, the terrifying accounts of the fire, the fascinating science. We were 10 years old again.
Viktor Frankl said we can discover meaning in our lives in three different ways: by creating a work or performing a task; by experiencing something or encountering someone; and by the attitude we take toward unavoidable suffering. Ten year old boys don't spend much time thinking about finding meaning in their lives. But 27-year-old men with two children are forced into it. The obsession of my father's youth began to gnaw at me in ways very different from my Big Fitz fascination. Ten year old boys view the disaster as the main character. I now found the people's reactions to the disaster as the main focus.
Mr. Sallee was 17 at the time of the Mann Gulch fire. He was a member of the elite Smokejumpers of the U.S. Forest Service. The Smokejumpers' job was to parachute into fires in remote areas and contain them before they could grow into major fires. They were first class, top notch, incredibly tough woodsmen. Unlike other firefighting outfits, they were trained to think on their feet and to improvise. They were the John Coltrane of the firefighting world. They were the best. For a boy spending summers in the woods of the Upper Peninsula, they were the ideal of what a guy was supposed to be ‑ either that or play for the Detroit Tigers; preferably both.
In what must have been a horrific 10 minutes, the small fire they had jumped on blew up into a fire that consumed the entire gulch. As the fire chased the Smokejumpers up Mann Gulch, Wag Dodge, the leader of the Smokejumpers, in a moment of desperate improvisation, lit a fire ahead of himself and tried to get his teammates to lie down in the ashes with him as the big fire passed around. The rest of the team, driven by terror, continued to run up the very steep gulch. Sallee and another Smokejumper named Walter Rumsey were cut off by Dodge's escape fire and had to turn to their left. They were able to reach a rocky ridge and slide through a crack in the rock to safety. The three were the only Smokejumpers to survive: one through gut instinct and the other two by blind luck. Once the fire was out, Sallee helped to remove his brother Smokejumpers from the gulch.
How was he able to do that? How did he deal with the controversy and attacks on his character in the inevitable post-tragedy finger-pointing? Robert Sallee made a few more jumps and then left the smokejumpers to work in the paper industry. He went to college and worked his way up in the industry. He got married and had a son. In 1978, Norman Maclean talked him into a return trip to Mann Gulch as Maclean was working on the book. After the Storm Mountain fire in 1994, he began to publically speak about the Mann Gulch fire and became a soft-spoken advocate for firefighter safety.
I never knew him, but Mr. Sallee's quiet strength, his toughness, his pursuit of meaning in the life he was given on that slope in 1949 in the face of unspeakable horror are an example to me. We don't need to be giant figures on the pages of a history book to be heroes. All we are to do is to jump out of a figurative airplane into the smoke of our lives, improvise in pursuit of a purpose or meaning, and hopefully watch our children experience the excitement of this beautiful world as they measure themselves against it and learn its lessons.
They really are pieces of artwork, the outdoor advertisements that adorn many historic and fantastic Uptown Butte buildings.
They're called ghost signs. And as writer Claudia Rapkoch found out in our story "Ghost Sign Scrutiny," they're a part of Butte lore just like many a good ghost story that's been told about the town.
Before TV and billboards, outdoor ads painted on buildings were a key way for companies to market their products.
Companies hired sign painters, called wall dogs, to travel the country and promote their products. These painters were a combination of salesmen, artists, engineers, chemists and daredevils, and Butte's population made it an obvious place to advertise regional national brands such as Bull Durham Tobacco, Rex Flour, Sweet Caporal Cigarettes and Coca-Cola.

But just what is the best way to preserve the fading signs? That's not an easy question to answer. Butte is currently debating how and if they should preserve the signs.
We've got a slideshow of ghost sign images online now.
You can read Rapkoch's full story in our current March/April issue – or subscribe today so you don't miss another Montana moment.
– Jenna
Snow is the most abundant thing in Steve Fuller's life each winter.
The Yellowstone National Park resident has been the "winter keeper" at Canyon Village. It's a job that comes with plenty of tasks, but not much company. Here's the story from the Associated Press:
He was hired in 1973 and now works full time at Canyon for Xanterra Parks and Resorts Inc. "I've lived at Canyon year-round ever since," Fuller said. "Seems like last week."
His nearest neighbors — 16 miles to the south at Yellowstone Lake — are National Park Service rangers and the only other winter keeper in the park keeping an eye on the facilities at Lake Village.
Originally, he was hired only to remove snow from roofs, but more duties came when he was named maintenance manager 30 years ago, such as summer project planning, preparing for contractors and hiring employees, Fuller said.
Still, snow remains a chief component in his world, especially when it's measured by the foot.
Fuller raised two daughters in the park. Today, he keeps busy fending off snow and bears, among other things, while living in a 100-year-old home.
Fuller's house of 42 years is at least 100 years old. It may date back to the 19th century.
"Certainly 1910, no doubt about that," he said.
The place is a bit off the beaten path, a mile south of Canyon Village. From his front porch, the Lower Falls of the Grand Canyon of the Yellowstone River are little more than a stone's throw away. From a picture window, snow-softened hills highlighted with pine seem to undulate to infinity.
The moon and sun backlight the falls' vapor plume. Fuller can hear the Upper Falls.
"It's like a megaphone pointed at my front step," Fuller said.
What a cool life. And even better?
"Never felt lonely — ever," Fuller said.
We're excited to introduce our March/April issue for a couple reasons.One, it's the 250th issue of Montana Magazine, a serious milestone for the oldest and best read magazine in the state.
Two: It's our Arts and Culture issue, full of the best features about Montana artisans who are both creating and feeding off inspiration under the Big Sky.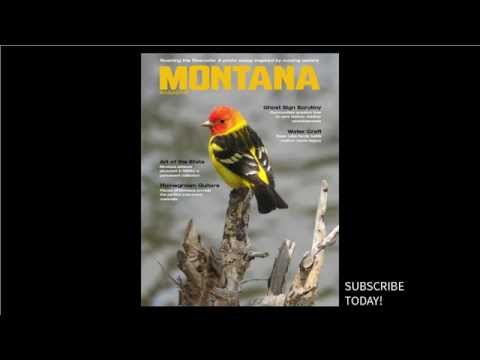 Our cover promo video was created by the wonderful Megan Richter, Montana Magazine's art director who also makes sure the pages of Montana Magazine are beautiful and dynamic. (Isn't that a beautiful Western Tanager on our cover? Photographer Michael Gallacher made that image).
All the March/April preview content is up now: Check it out!
Want more? Subscribe today!
– Jenna
We know: There are a lot of "must visit" lists out there these days.
But it's hard to resist sharing them when two of the "must visit" destinations are in our wonderful state. 
Both Teton Canyon National Recreation Area and Glacier National Park made MSN Travel's "10 Great National Parks to Visit This Spring" list.
Here's what they had to say about Bighorn:
The park is home to wild horses, bighorn sheep and mountain lions, but the major attraction in the spring is fishing in Bighorn Lake—it's a world-class trout fishery that should be on every angler's list.
And what's so special about Glacier in the springtime? 
Though Glacier National Park is normally chilly in the spring, it is the best time to visit. The 700+ miles of hiking trails and abundance of wildlife are best experienced when the crowds are sparse
Here's one of our most popular 2014 features from Glacier. It's all about goats. 
We're gearing up to bring you a special Park to Park issue this summer – including one-of-a-kind feature stories on what make our parks special, and a road trip map to get you from one park to the other.
Subscribe today and don't miss a Montana moment. 
– Jenna
Photography of Kurt Wilson
While wandering more than 10,000 miles around Montana last year, photographer Kurt Wilson made thousands of unplanned images.
That was the point.
The longtime photojournalist – whose mom grew up in Three Forks at the headwaters of Missouri River and who learned to swim while fishing the Alberton Gorge with his dad – spent six weeks in 2014 taking photos of Montana while eating and sleeping in his camper.
During calculated meanderings for his "Roadside Wanderings" project that ran in the Missoulian and included photos of everything from phone booths to pelicans, Wilson was drawn to rivers on many occasions.
To view the entire Roaming the Riverside portfolio, find this issue on newsstands now. To read more about Montana all year, subscribe now.
Click the photo above to see Wilson's entire Roadside Wanderings project