They really are pieces of artwork, the outdoor advertisements that adorn many historic and fantastic Uptown Butte buildings.
They're called ghost signs. And as writer Claudia Rapkoch found out in our story "Ghost Sign Scrutiny," they're a part of Butte lore just like many a good ghost story that's been told about the town.
Before TV and billboards, outdoor ads painted on buildings were a key way for companies to market their products.
Companies hired sign painters, called wall dogs, to travel the country and promote their products. These painters were a combination of salesmen, artists, engineers, chemists and daredevils, and Butte's population made it an obvious place to advertise regional national brands such as Bull Durham Tobacco, Rex Flour, Sweet Caporal Cigarettes and Coca-Cola.

But just what is the best way to preserve the fading signs? That's not an easy question to answer. Butte is currently debating how and if they should preserve the signs.
We've got a slideshow of ghost sign images online now.
You can read Rapkoch's full story in our current March/April issue – or subscribe today so you don't miss another Montana moment.
– Jenna
Snow is the most abundant thing in Steve Fuller's life each winter.
The Yellowstone National Park resident has been the "winter keeper" at Canyon Village. It's a job that comes with plenty of tasks, but not much company. Here's the story from the Associated Press:
He was hired in 1973 and now works full time at Canyon for Xanterra Parks and Resorts Inc. "I've lived at Canyon year-round ever since," Fuller said. "Seems like last week."
His nearest neighbors — 16 miles to the south at Yellowstone Lake — are National Park Service rangers and the only other winter keeper in the park keeping an eye on the facilities at Lake Village.
Originally, he was hired only to remove snow from roofs, but more duties came when he was named maintenance manager 30 years ago, such as summer project planning, preparing for contractors and hiring employees, Fuller said.
Still, snow remains a chief component in his world, especially when it's measured by the foot.
Fuller raised two daughters in the park. Today, he keeps busy fending off snow and bears, among other things, while living in a 100-year-old home.
Fuller's house of 42 years is at least 100 years old. It may date back to the 19th century.
"Certainly 1910, no doubt about that," he said.
The place is a bit off the beaten path, a mile south of Canyon Village. From his front porch, the Lower Falls of the Grand Canyon of the Yellowstone River are little more than a stone's throw away. From a picture window, snow-softened hills highlighted with pine seem to undulate to infinity.
The moon and sun backlight the falls' vapor plume. Fuller can hear the Upper Falls.
"It's like a megaphone pointed at my front step," Fuller said.
What a cool life. And even better?
"Never felt lonely — ever," Fuller said.
We're excited to introduce our March/April issue for a couple reasons.One, it's the 250th issue of Montana Magazine, a serious milestone for the oldest and best read magazine in the state.
Two: It's our Arts and Culture issue, full of the best features about Montana artisans who are both creating and feeding off inspiration under the Big Sky.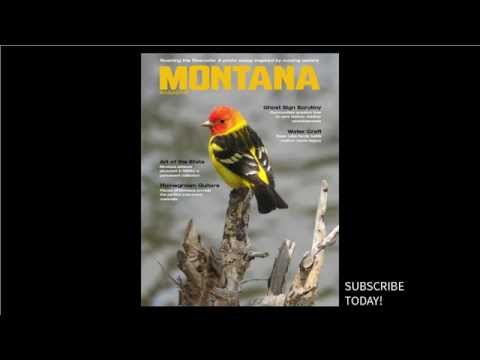 Our cover promo video was created by the wonderful Megan Richter, Montana Magazine's art director who also makes sure the pages of Montana Magazine are beautiful and dynamic. (Isn't that a beautiful Western Tanager on our cover? Photographer Michael Gallacher made that image).
All the March/April preview content is up now: Check it out!
Want more? Subscribe today!
- Jenna
We know: There are a lot of "must visit" lists out there these days.
But it's hard to resist sharing them when two of the "must visit" destinations are in our wonderful state. 
Both Teton Canyon National Recreation Area and Glacier National Park made MSN Travel's "10 Great National Parks to Visit This Spring" list.
Here's what they had to say about Bighorn:
The park is home to wild horses, bighorn sheep and mountain lions, but the major attraction in the spring is fishing in Bighorn Lake—it's a world-class trout fishery that should be on every angler's list.
And what's so special about Glacier in the springtime? 
Though Glacier National Park is normally chilly in the spring, it is the best time to visit. The 700+ miles of hiking trails and abundance of wildlife are best experienced when the crowds are sparse
Here's one of our most popular 2014 features from Glacier. It's all about goats. 
We're gearing up to bring you a special Park to Park issue this summer – including one-of-a-kind feature stories on what make our parks special, and a road trip map to get you from one park to the other.
Subscribe today and don't miss a Montana moment. 
– Jenna
Here's what I'm calling a "weird Wednesday" post for you:
Many around Western Montana woke to reports of "fireballs" having been seen in the night skies on Tuesday, and there were plenty of photos and videos to prove it. Walt Landi captured a beauty of a photo that has been widely shared.
Rather than an alien fly-by, the lights, as Missoulian reporter Kim Briggeman found out, were from a Chinese rocket re-entering the Earth's atmosphere.
Jon Erdmann was out photographing the former – an especially bright aurora borealis display – north of Kalispell when a distinctive light appeared from the south.
"It looked like a rocket launch from the Lakeside area, with sparks coming from below, like a Fourth of July rocket," Erdmann said Tuesday. He called the sight "jaw-dropping."
People from Arizona to Alberta reported similar sightings at roughly the same time, just before 11 p.m.
On Tuesday, NASA's Orbital Debris Program Office had identified the object as the re-entry of a Chinese rocket body. Others said the "space junk" came off a rocket that launched a satellite in China in late December.
Some witnesses had cameras, but only a few were accomplished at pointing them at interstellar objects in the night sky. Erdmann, a 58-year-old aurora chaser, was one of them.
"I've seen meteors and I've seen comets," he said. "But I've never, ever seen anything like this."
As Briggeman writes, plenty of people saw the bright burst of light.
Fran Coover of Missoula called it transfixing.
She said she'd just looked into the sky at 10:56 p.m. to check out the stars on the clear, cold night. She turned her gaze westward toward the crescent moon.
"Over my shoulder came a light so intense that I turned back to see what has to be one of the most spectacular sights I've ever seen in my life," Coover said in an email.
"Moving in a great arc across the sky from southeast to northwest (approximately) was a shower of yellow lights. The first grouping contained perhaps two dozen large points of light, each trailed by dozens of lesser lights. After that came a smaller grouping with the same pattern, about five large lights, each trailed by dozens of visible fragments."
What about you? Did you see the "fireball"?
– Jenna
Have you seen the first installment of our 2015 series "The Last Best Plates," when we help readers explore the Amaltheia Organic Dairy? 
It's a place where piglets and baby goats frolic together - oh and they make amazing cheese. 
They have 17 varieties ranging from plain goat cheese and ricotta to flavor infused chevres, such as roasted garlic, sundried tomato and spiced pepper. Their products are distributed to grocery stores on both coasts, in places like Trader Joe's and Wild Oats, and for sale through their website.
"People say you can taste the mountains in our cheese," Sue said. "It tastes fresh, creamy and clean, and it's just one farms milk going into it which makes a difference."
We're very excited to be able to bring readers glimpses of the wonderful eats and treats around the Big Sky State thanks to Lynn Donaldson and Corinne Garcia. 
Donaldson founded The Last Best Plates blog. It's pretty cool (one feature is all about the origin of the pasty.) Last Best Plates is sharing special Montana food stories with us inside each issue of Montana Magazine
Next, for the Montana Magazine series, Donaldson and Garcia let us in on a few secrets to planning the best post-branding picnic party around. We'll have a recipe for a Huckleberry Bar dessert, as well as beautiful images from an amazing Paradise Valley ranch where the picnic takes place. 
Here's a couple preview images to give you a taste of the second Last Best Plates installment: 
We'll have to full Last Best Plates story up this week. Check back soon. 
In the meantime, don't miss a Montana moment. Subscribe today!
-Jenna
For starters, more than a couple Montana greats came from Great Falls, including quarterback Dave Dickenson, artist Charlie Russell and former U.S. Senate Majority Leader and Ambassador Mike Mansfield.
Want more reasons Great Falls is great? Missoulian reporter Vince Devlin and photographer Tom Bauer have the answers. They found out that for a city that hasn't seen much growth in the past years, there's big things happening in Great Falls.
Since 2009, the 6 1/2-acre site has welcomed a four-story, 113-suite hotel (Staybridge Suites), a spectacular new $16.4 million federal courthouse (named after the Missouri River), a Japanese seafood and steakhouse (Kobe's), and a brew pub Ziegler is part of called The Front and the attached Faster Basset coffee and sandwich shop.
Their motto, says owner Brandon Cartwright: "Come for the coffee. Stay for the beer."
The hotel, restaurants, brew pub and courthouse are the first phase of development. Next door, old grain silos will eventually be moved to make room for phase two.
"I really feel Great Falls is coming out of the creative business rut it was in," Cartwright says. "That's nothing against the businesses that paved the way, but developments like West Bank One and Two are giving people a lot more choices."
There's also wonderful things like the C.M. Russell Museum and the Sip N Dip in Great Falls. Bauer and Devlin visited both during their visit.
Tons of more facts about Great Falls – courtesy of Devlin and Bauer – are here.
And here's a link to a photo gallery by Bauer, including some beauties of the Rocky Mountain Front.
Want to learn more about other G towns around Montana? Try Glasgow.
Want more of Montana delivered to your mail box? Subscribe to Montana Magazine today.
– Jenna
There's an unusual feeling in the air lately around Montana – and the people who live and work in Glacier National Park have been feeling it too. Even though it's only February, the snow cover that the deer in the middle of the road was enjoying in December and January – is melting.
The unusually warm spring-like temperatures have prompted a flurry of Facebook posts by the park, noting that things are blooming and animals are waking up as the snow melts.
A post on Feb. 11 noted that pussy willow buds look ready to bud.
"This is most unusual and way too early as we still have a lot of winter to come in northern Montana. Buds on many cottonwoods also very swollen and looking ready to leaf out. Chickadees singing their "spring song." And people out riding bicycles and flying kites. Feels a bit like the twilight zone."
Another post of showed the browning meadows of Two Dog Flats near St. Mary Lake, an important winter habitat for elk.
If you haven't already, be sure to follow Glacier National Park on Facebook for more updates and gorgeous photos from around the park. Also, check out GNP's Flickr stream for some great images of a wolverine.
We're proud of the Glacier photography we've featured, too. Check some out here.
And our readers have taken some great Glacier shots as well.
Want even more? Subscribe today!
– Jenna