We've been having fun so far this year showing readers a few Treasure State Hidden Gems – we've visited Monture Cabin and Ekalaka so far.
They're off the beaten path, no doubt. 
But have you heard of these 12 Montana towns that the Billings Gazette has dubbed "12 Montana towns you may never have heard of."
Dagmar, for instance, is located in Sheridan County in the northeastern corner of the state, was once known for its many Danish homesteaders. The town itself is named for a 13th Century Danish queen. Today, the Danish influence remains with the town's few remaining residents. Dagmar sits just a few miles west of the North Dakota border and about 25 miles south of Saskatchewan.
Click through and see which ones you've heard named before.
Bonus points if you've been there.
– Jenna 
If you know anything about Montana Magazine, you know that we LOVE good photos.
Including the stunners we have inside each issue, we are lucky to have a very talented set of readers who send us images all year.
We update our Reader Photo Gallery regularly. Have you checked it out lately? We've got another batch of great images up now. 
Do you have images you'd like to share? Please do! Include full photographer name, a brief description of the image, location of the shot and your contact information in an email with a jpg file of the image to editor@montanamagazine.com.
To see more of the Reader Photos in each issue of Montana Magazine, subscribe today!
– Jenna
One of the most iconic camping companies in the world got its start in Montana.
We loved sharing the story of KOA in our March/April issue.
From the first KOA campground in Billings in 1961, the enterprise grew into an international corporation, boasting nearly 500 campgrounds in the U.S. and Canada by the second decade of the 21st century. 
While Dave Drum created the perfect place to "rough it in style," we asked our readers to share their favorite camping memories in our Facebook Fan Feedback, camping edition.
Here's what a few had to say:
Beth Davis Camping just outside of Lincoln; the sound of the timber trucks and most especially the smell of the pine. The best though, was camping in my own back yard at the base of the Highwood Mountains.
Cecelia Lankutis Lolo Peak, summer of 1977 with my oldest sister. (It) snowed on the third of July!
Luci Phalen Back when our kids were little (at) Kersey Lake and Lake Abundance. (There were) deer walking through camp at night, so many shooting stars and the telling of stories around the campfire. Priceless!
Read the rest of the KOA and camping memories features in our current issue by subscribing today.
– Jenna
We're lucky to get to share the wonderful work of photographer Kurt Wilson in our March/April issue.
Wilson's images from riversides across Montana (and we mean ALL across Montana) make up our Portfolio: Roaming the Riverside.
It's part of Wilson's larger "Roadside Wanderings" project that took him around the state following historical roadside markers.
His "best of" collection of riverside photos depicts a vast variety of territory – a concept that captures the broad role Montana rivers play in the state. 
For one thing, "there's a lot of history in rivers," Wilson said.
Our slideshow is just a sampling of Wilson's beautiful work.
See the entire Portfolio by picking up our current issue today. Don't miss another Montana moment by subscribing today.
– Jenna
Art is many things. The Montana Museum of Art and Culture's "Art of the State" exhibit proves that – showcasing the work of Montana artists whose work is part of its permanent collection.
But have you ever heard of art as a confession tool?
In our March/April Behind the Scenes feature, writer Kelsey Dayton tells us about on Montana artist who proudly proclaimed his crime on the front of one of his drawings (which now is part of the MMAC's permanent collection).
Here's the full story from Dayton: 
"Staff at the museum told me every piece in the exhibit has a story, either about the work or the artist. My favorite piece isn't necessarily the prettiest, but it has a great story. 'Hunting Party' by Philip John is almost a crude looking watercolor on paper, depicting men playing a stick game and a parade of seven horses, while in the background hunters take aim at game. The best part of this painting was found in the left corner of the drawing. There, an inscription told the story of John, who drew the picture in a Missoula jail in 1892. He also detailed his crime: 'Philip John, Indian Artist, Companion of Pot Latch Fanny and Peter who murdered ROMBAUGH in the Bitter Root Valley 1889 …'
The inscription references an incident in August 1888 when John, Peter and Potlatch Fannie were accused of attacking two prospectors and killing one named Jack Rombo, near Darby. The story is no longer on the front of the piece, but is preserved on the back."
Read more about the beautiful collection and all the Montana artists featured in it here.
Want to read the full story? Subscribe today!
– Jenna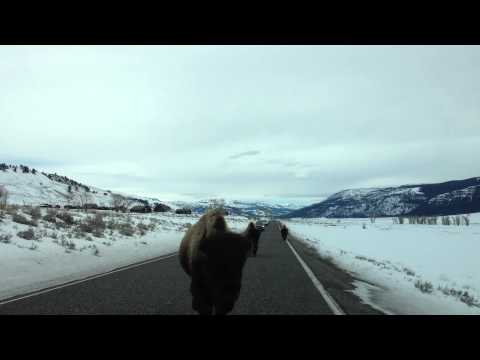 This Yellowstone bison did not like that this car was in his way. Yellowstone visitor Tom Carter took this video of the charging bison near Lamar. Valley.
The insurance agent for the vehicle's owner said the head-butt did almost $2,800 in damage.
Reminds me of this gentle reminder we ran with our Glacier mountain goat story last summer about the rules of wildlife interaction in national parks.
 As usual, the rules are there for a reason.
Speaking of national parks: We're heading to Yellowstone to do some exploring in our upcoming special Park-to-Park issue. Subscribe today and don't miss a Montana moment.
– Jenna 
They really are pieces of artwork, the outdoor advertisements that adorn many historic and fantastic Uptown Butte buildings.
They're called ghost signs. And as writer Claudia Rapkoch found out in our story "Ghost Sign Scrutiny," they're a part of Butte lore just like many a good ghost story that's been told about the town.
Before TV and billboards, outdoor ads painted on buildings were a key way for companies to market their products.
Companies hired sign painters, called wall dogs, to travel the country and promote their products. These painters were a combination of salesmen, artists, engineers, chemists and daredevils, and Butte's population made it an obvious place to advertise regional national brands such as Bull Durham Tobacco, Rex Flour, Sweet Caporal Cigarettes and Coca-Cola.

But just what is the best way to preserve the fading signs? That's not an easy question to answer. Butte is currently debating how and if they should preserve the signs.
We've got a slideshow of ghost sign images online now.
You can read Rapkoch's full story in our current March/April issue – or subscribe today so you don't miss another Montana moment.
– Jenna
Snow is the most abundant thing in Steve Fuller's life each winter.
The Yellowstone National Park resident has been the "winter keeper" at Canyon Village. It's a job that comes with plenty of tasks, but not much company. Here's the story from the Associated Press:
He was hired in 1973 and now works full time at Canyon for Xanterra Parks and Resorts Inc. "I've lived at Canyon year-round ever since," Fuller said. "Seems like last week."
His nearest neighbors — 16 miles to the south at Yellowstone Lake — are National Park Service rangers and the only other winter keeper in the park keeping an eye on the facilities at Lake Village.
Originally, he was hired only to remove snow from roofs, but more duties came when he was named maintenance manager 30 years ago, such as summer project planning, preparing for contractors and hiring employees, Fuller said.
Still, snow remains a chief component in his world, especially when it's measured by the foot.
Fuller raised two daughters in the park. Today, he keeps busy fending off snow and bears, among other things, while living in a 100-year-old home.
Fuller's house of 42 years is at least 100 years old. It may date back to the 19th century.
"Certainly 1910, no doubt about that," he said.
The place is a bit off the beaten path, a mile south of Canyon Village. From his front porch, the Lower Falls of the Grand Canyon of the Yellowstone River are little more than a stone's throw away. From a picture window, snow-softened hills highlighted with pine seem to undulate to infinity.
The moon and sun backlight the falls' vapor plume. Fuller can hear the Upper Falls.
"It's like a megaphone pointed at my front step," Fuller said.
What a cool life. And even better?
"Never felt lonely — ever," Fuller said.