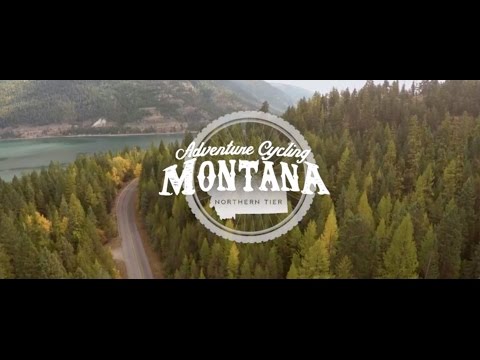 Need a little at-your-desk getaway to get you through the day? Take a trip from Libby to Whitefish with the Adventure Cycling Association in the organization's newly released short film. It features a ride along the Northern Tier route, which goes cross-country from Anacortes, Washington, to Bar Harbor, Maine.
The film highlights the section of the route between Libby and Whitefish, much of it along Lake Kookanusa. Safe to say, there's some OK scenery to take in . It'll have you daydreaming about road riding on warmer days. It was made by Rachel Stevens and Bobby Jahrig.
This is the first in a series of films featuring bike travel in Montana. Adventure Cycling produced the series in partnership with a group called Epic Montana and the Montana Film Office and each one highlights one of the five Adventure Cycling Routes in the state (totaling about 3,500 miles).
- Jenna
No surprise here: Montana cowboys and cowgirls kicked butt at  Las Vegas during the National Finals Rodeo.
Here's the story for the Associated Press. Recognize any names?
Montana cowboys and cowgirls stormed the latest Wrangler National Finals Rodeo with multiple successes over 10 days of the average competition in Las Vegas recently, culminating in several top-10 placings in the year-end PRCA world standings.
Billings team roper Clay Tryan, a header, along with heeler Jade Corkhill (Fallon, Nevada), led the Treasure State's contingent, winning both the average and the world championship. Tryan garnered a total of $220,058 for the year, while garnering his third world title (2005, 2013-14).
Clay, who is the cousin of 2012 NFR qualifier Chase Tryan of Helena, is now a 13-time NFR qualifier, and is just $3,000 shy of $2 million career earnings.
Bull rider Beau Hill of West Glacier placed third in the average and fourth in the world standings, collecting a year's earnings of $148,911. Ty Erickson of Helena finished runner-up in the steer wrestling, and seventh overall, pocketing $123,116.
Team roper Dustin Bird (header) of Cut Bank placed 11th and in the average and sixth in the year-end, for $146,731. In bareback bronc riding, Power's Jessy Davis took 11th in the average and 14th in the overall, earning $75,757. 
Culbertson native Lisa Lockhart of Oelrichs, South Dakota, captured the barrel racing average championship and placed runner-up in the world standings. She pocketed a total of $265,514.
Tie-down roper/team roper Trevor Brazile (Decatur, Texas), a former Last Chance Stampede titlist, claimed his 12th PRCA all-around crown.
Can you name all the 'E' towns under the Big Sky? Hint: There are 11.
Having trouble? Let this slideshow from photographers across the state help out.
- Jenna
It's been said that this cooper-colored guy got more attention for his 1889 Kentucky Derby win than news that Montana was granted statehood.
Spokane, foaled at a ranch new Twin Bridges, was a big deal back then. And in 2008, his racing accomplishments earned him a spot in the Montana Cowboy Hall of Fame.
Here's more on Montana's most famous horse from writer Cathy Melin Moser:
Copper-colored Spokane was foaled in 1886 at Noah Armstrong's Doncaster Ranch near present day Twin Bridges. Cowboys who worked the silver-mining magnate's ranch gave the colt his early training as a racehorse.
Spokane showed talent and heart in his early races. Then on May 9, 1889, he joined eight fiery 3-year-olds at Churchill Downs for the 1 ½ mile Kentucky Derby. For the first time he would compete against his future rival, Proctor Knott, favored to win the Derby. Chestnut-colored Knott had won the prestigious 1888 Futurity Stakes and was named horseracing's "Two-Year-Old Horse of The Year."
At the start of the race, Proctor Knott surged ahead. Spokane lagged in fifth place but at mid-race uncorked an explosion of speed that quickly cut down the distance separating him from Proctor Knott. The big chestnut responded to Spokane's challenge with blazing speed of his own.
Twenty-five thousand spectators stood, their cheers drowning out thundering hoof beats as Spokane raced into history. Judges proclaimed Spokane had beaten Proctor Knott "by a flaming nostril," and he'd won the Derby in world record time of 2 minutes and 34 ½ seconds.
Six months later, Nov. 8, 1889, Montana was granted statehood.
Her residents hotly debated which was more noteworthy: statehood or Spokane's victory.
- Jenna
Here's a cool Montana story focused on a study about wolverines – an animal biologists know little about.
As Ravalli Republic reporter Perry Backus tell us in his story, biologist believe several wolverines were caught on motion-activated cameras set up by biologists who attracted the animals with a carcass.
Images of wolverines were captured at eight different sites. They also captured fur that will allow them to identify and study the wolverines more thoroughly.
The smell of rotting meat didn't just attract wolverines.
For the last two winters, that's just what Bitterroot National Forest wildlife biologist Andrea Shortsleeve has done in an attempt to better understand the habits of forest predators on the prowl.
Last winter, the photographs taken on 60 different bait sites offered a glimpse into the lives of bobcat, marten, fox, mountain lion and even a trio of squabbling eagles in the Bitterroot and Sapphire mountains.
The main focus of the study was the most secretive predator of all.
No one knows for sure just how many wolverines there are on the Bitterroot National Forest. Before Shortsleeve and her crew began setting their motion-sensitive trail cameras up to document critters drawn to the smell of rotting meat, no one even knew where they ventured.
See the enter slideshow of images here.
- Jenna
We told you about the plethora of stories that the Montana Cowboy Hall of Fame and Western Heritage Center is collecting as it continues to recognize inductees, which range from everything from a women's basketball team to a Kentucky Derby champion horse.
We share the story of the hall of fame and introduced readers to several inductees inside our Nov/Dec issue. One is Chief Plenty Coups, a man who was considered both a great cowboy and diplomat.
2008 inductee: Aleek-chea-ahoosh, Chief Plenty Coups:
By Cathy Melin Moser
Of all the great American Indian chiefs who struggled in the era of white settlement, only one achieved lasting peace with white men and retained his people's homeland in perpetuity. He was Aleek-chea-ahoosh, born in 1848 near present-day Billings. His name meant, prophetically, Many Achievements. White men knew him as Plenty Coups.
At age 28, he became chief of the Mountain Crows.
Chief Plenty Coups concluded that the Crows must follow the white man's ways if they were to survive. He traveled to Washington, D.C., multiple times where he impressed officials. Thanks to Plenty Coups, they realized, at least in part, the complex problems confronting the Crows.
Chief Plenty Coups was promised material aid, teachers and agriculture instructors, as well as a permanent reservation in the Crow lands of southern Montana.
Within his lifetime, Chief Plenty Coups was revered for placing diplomacy and cooperation above force of arms. His diplomatic skills helped his people transition from a nomadic lifestyle to settled agriculturalists confined to a reservation.
Despite having secured a peaceful existence for his people, Chief Plenty Coups acknowledged, "When the buffalo went away, the hearts of my people fell to the ground, and they could not lift them up again." 
Want to learn more?  You can visit Chief Plenty Coups State Park outside Billings.
- Jenna 
Whose your pick to win the 2014 Brawl of the Wild?  Not like you need an explainer, but that's when the MSU Bobcats play the UM Grizzlies in what is for many the most anticipated football game of the year. It will kickoff at 3:15 p.m. in Missoula on Saturday.
Who's going to win? It's anybody's game.
There's a lot riding on a win for the Griz, as Missoulian reporter Bill Speltz explains.
As for the Cats, they're confident they can win even without their first string quarterback.
Either way, it's high stakes, as the Billings Gazette reporter Greg Rachac explains.
Even Montana elected officials are getting in on the fun.
Congressman Steve Daines and Attorney General Tim Fox again have placed a friendly wager over the upcoming Montana–Montana State football game.
The winner will provide the loser with a bumper sticker of the winning team, which must be placed on the loser's personal vehicle for a month.
If you can't make the game Saturday, here's a photo gallery of past Brawls to get you in the spirit.
- Jenna
Montana hunters have some of the best traditions of any group around – many of rooted in the quest to hunt elk. We gave readers a glimpse into one tradition in our Nov/Dec issue, when writer and photographer Jack Ballard gave us a look inside his family's elk camp.
"Home Base" tells of the tradition and the memories created at the Ballard camp – which has been hosted hunters for more than 50 years.
Ostensibly, the purpose of the elk camp is to facilitate elk hunting, the goal of which is most simply defined as killing an elk.
But the camp likely plays a much more complex role in the lives of the hunters, at least in bivouacs with a long history, such as that which surrounds my family's camp.
In 2003 my uncle Tom celebrated his 50th consecutive year of hunting elk from the same camp, with the ridgepole of the cook tent fastened to the same wind-scarred lodgepole pine.
 "That old guy must really be into killing things," a cynical soul of the nonsporting public might conclude. Such a simplistic conclusion ignores the fact that for at least the last decade before his silver anniversary, Tom spent precious little time hunting, preferring instead to hone his culinary skills in the camp kitchen and pass many precious hours reading, tinkering or surveying the broad, untrammeled view of a yonder mountain range perched on a folding metal chair outside the cook tent.
The Ballards have created many lifetimes worth of memories at its elk camp in Montana's southwestern wilderness where the scenery is epic and the tents are warm. The annual fall ritual that brings hunters together through stalwart tradition creates a place that, Ballard says, is more like home than most houses.
But what makes camp so comfortable? Ballard's top 10 elk camp essentials include:
1) Wall tent
2) Tent frame
3) Tent fly
4) Wood-burning stove
5) Firewood
6) Chainsaw
7) Cots
8) Real sleeping bags and pads
9) Outhouse (luxury option No. 1)
10) Elk (luxury option No. 2)
- Jenna