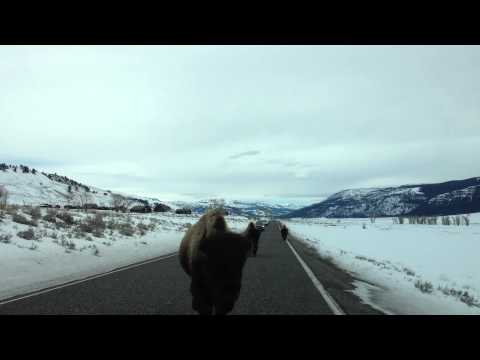 This Yellowstone bison did not like that this car was in his way. Yellowstone visitor Tom Carter took this video of the charging bison near Lamar. Valley.
The insurance agent for the vehicle's owner said the head-butt did almost $2,800 in damage.
Reminds me of this gentle reminder we ran with our Glacier mountain goat story last summer about the rules of wildlife interaction in national parks.
 As usual, the rules are there for a reason.
Speaking of national parks: We're heading to Yellowstone to do some exploring in our upcoming special Park-to-Park issue. Subscribe today and don't miss a Montana moment.
– Jenna 
They really are pieces of artwork, the outdoor advertisements that adorn many historic and fantastic Uptown Butte buildings.
They're called ghost signs. And as writer Claudia Rapkoch found out in our story "Ghost Sign Scrutiny," they're a part of Butte lore just like many a good ghost story that's been told about the town.
Before TV and billboards, outdoor ads painted on buildings were a key way for companies to market their products.
Companies hired sign painters, called wall dogs, to travel the country and promote their products. These painters were a combination of salesmen, artists, engineers, chemists and daredevils, and Butte's population made it an obvious place to advertise regional national brands such as Bull Durham Tobacco, Rex Flour, Sweet Caporal Cigarettes and Coca-Cola.

But just what is the best way to preserve the fading signs? That's not an easy question to answer. Butte is currently debating how and if they should preserve the signs.
We've got a slideshow of ghost sign images online now.
You can read Rapkoch's full story in our current March/April issue – or subscribe today so you don't miss another Montana moment.
– Jenna
Snow is the most abundant thing in Steve Fuller's life each winter.
The Yellowstone National Park resident has been the "winter keeper" at Canyon Village. It's a job that comes with plenty of tasks, but not much company. Here's the story from the Associated Press:
He was hired in 1973 and now works full time at Canyon for Xanterra Parks and Resorts Inc. "I've lived at Canyon year-round ever since," Fuller said. "Seems like last week."
His nearest neighbors — 16 miles to the south at Yellowstone Lake — are National Park Service rangers and the only other winter keeper in the park keeping an eye on the facilities at Lake Village.
Originally, he was hired only to remove snow from roofs, but more duties came when he was named maintenance manager 30 years ago, such as summer project planning, preparing for contractors and hiring employees, Fuller said.
Still, snow remains a chief component in his world, especially when it's measured by the foot.
Fuller raised two daughters in the park. Today, he keeps busy fending off snow and bears, among other things, while living in a 100-year-old home.
Fuller's house of 42 years is at least 100 years old. It may date back to the 19th century.
"Certainly 1910, no doubt about that," he said.
The place is a bit off the beaten path, a mile south of Canyon Village. From his front porch, the Lower Falls of the Grand Canyon of the Yellowstone River are little more than a stone's throw away. From a picture window, snow-softened hills highlighted with pine seem to undulate to infinity.
The moon and sun backlight the falls' vapor plume. Fuller can hear the Upper Falls.
"It's like a megaphone pointed at my front step," Fuller said.
What a cool life. And even better?
"Never felt lonely — ever," Fuller said.
We're excited to introduce our March/April issue for a couple reasons.One, it's the 250th issue of Montana Magazine, a serious milestone for the oldest and best read magazine in the state.
Two: It's our Arts and Culture issue, full of the best features about Montana artisans who are both creating and feeding off inspiration under the Big Sky.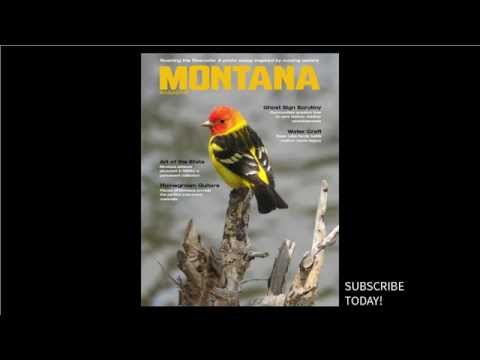 Our cover promo video was created by the wonderful Megan Richter, Montana Magazine's art director who also makes sure the pages of Montana Magazine are beautiful and dynamic. (Isn't that a beautiful Western Tanager on our cover? Photographer Michael Gallacher made that image).
All the March/April preview content is up now: Check it out!
Want more? Subscribe today!
- Jenna
We know: There are a lot of "must visit" lists out there these days.
But it's hard to resist sharing them when two of the "must visit" destinations are in our wonderful state. 
Both Teton Canyon National Recreation Area and Glacier National Park made MSN Travel's "10 Great National Parks to Visit This Spring" list.
Here's what they had to say about Bighorn:
The park is home to wild horses, bighorn sheep and mountain lions, but the major attraction in the spring is fishing in Bighorn Lake—it's a world-class trout fishery that should be on every angler's list.
And what's so special about Glacier in the springtime? 
Though Glacier National Park is normally chilly in the spring, it is the best time to visit. The 700+ miles of hiking trails and abundance of wildlife are best experienced when the crowds are sparse
Here's one of our most popular 2014 features from Glacier. It's all about goats. 
We're gearing up to bring you a special Park to Park issue this summer – including one-of-a-kind feature stories on what make our parks special, and a road trip map to get you from one park to the other.
Subscribe today and don't miss a Montana moment. 
– Jenna
Photography of Kurt Wilson
While wandering more than 10,000 miles around Montana last year, photographer Kurt Wilson made thousands of unplanned images.
That was the point.
The longtime photojournalist – whose mom grew up in Three Forks at the headwaters of Missouri River and who learned to swim while fishing the Alberton Gorge with his dad – spent six weeks in 2014 taking photos of Montana while eating and sleeping in his camper.
During calculated meanderings for his "Roadside Wanderings" project that ran in the Missoulian and included photos of everything from phone booths to pelicans, Wilson was drawn to rivers on many occasions.
To view the entire Roaming the Riverside portfolio, find this issue on newsstands now. To read more about Montana all year, subscribe now.
Click the photo above to see Wilson's entire Roadside Wanderings project
This is the second piece in a six-part The Last Best Plates series about food and eating in Montana featuring the photography of Lynn Donaldson and writing of Corinne Garcia. For more, visit thelastbestplates.com.
Scroll down for the Huckleberry Bars recipe
By Corinne Garcia
Photos by Lynn Donaldson
Is there anything more "Montana" than a good old cattle branding?
After all, cattle have a long history in Montana's relatively short history, and it's one that somewhat defines this vast state.
Branding is a tradition based on camaraderie. It's down-and-dirty work that typically requires many hands, and it's common practice for neighbors, friends and family to help each other during this springtime event. The cowboys and cowgirls round up the cattle on horseback and bring the noisy creatures to a holding pen. Then they rope them, hold them down, and seal the deal with the hot, sizzling brand.
The branding tradition is alive and well at the West Creek Ranch in Paradise Valley, where owners Elizabeth and Carl Webb work hand-in-hand with a slew of helpers when they brand.
On a chilly April morning every spring, as the sun starts to rise, the crew rounds up the cattle under the gaze of the snowcapped Absaroka Mountains come snow, rain or sunshine.
While the cowhands are hard at work, Carol Sullivan, owner of the Livingston-based Mustang catering, starts the post-branding feed. It's the Webb's way of thanking their friends and family for the long morning of work, and it has also turned into an annual tradition in its own right.
Sullivan is well known for her fresh takes on classic dishes. She has catered events for families, celebrities and organizations of all sizes, and also runs the Mustang Café on Main Street in Livingston.
"I've been catering this lunch for the past 13 years," Sullivan said. "It's such an amazing setting; rustic but also very warm and inviting."
The venue is a large pavilion that's open on all sides but one, offering panoramic views of the surrounding peaks. The guests – kids included – sit at big wooden tables and the roaring fire in a large stone fireplace at one end is enough to take off the chill.
The menu features a selection of hearty comfort food dishes with a spring twist, and they typically feed around 40 people.
"We've really stuck to the same menu year after year, because it's all of their favorite things," Sullivan said. "It's ranch style, with the freshest ingredients."
Side dishes like Classic Coleslaw, Calico Ranch Style Beans, and Cowboy Stuffed Potatoes compliment the meat, which is a choice of chicken or steak marinated in Sullivan's blend of fresh herbs and oil and grilled by some of the men in the group. Another special side dish includes stuffed jalapenos, a well-loved specialty prepared by Carl's son.
Dessert is on the casual side, with Sweet and Salty Pecan Bars and Huckleberry Bars that people can grab without a plate. Sullivan also puts out hot chocolate and coffee for an extra warm-up.
"People tend to dive right in; they're pretty hungry after a big morning of hard work," Sullivan said.
For more of Sullivan's recipes, check out her cookbook, Gatherings Friends and Recipes from Montana's Mustang Kitchen.
Corinne Garcia and Lynn Donaldson are frequent contributors to Montana Magazine. Garcia writes from Bozeman. Lynn is based in Livingston.
Huckleberry Bars

¾ cup unsalted butter, softened

1 cup light brown sugar

1 ½ cups all-purpose flour

½ teaspoon baking soda

1 ½ cups quick-cooking oatmeal

1 ¼ cups huckleberry jam

Directions

Preheat oven to 400 degrees.

For the crust, cream butter and sugar well in a bowl.

In a separate bowl, combine flour, salt and baking soda.

Stir into creamed mixture. When incorporated, stir in quick oatmeal, but don't over mix.

Press ¾ of the crust mixture into the bottom of 9-by-13 inched pan lined with parchment paper. Spread the jam on top and cover with the remaining crust mixture.

Bake 12-15 minutes until light brown.
Courtesy of Carol Sullivan, Gatherings Friends and Recipes from Montana's Mustang Kitchen
By DOUG MITCHELL
Another stunner from one of Montana's most treasured fiction writers, a clear-eyed and interesting look at farming pulse crops in Big Sky Country, a moving book of poems from a Helena native, and a Montanan's take on one of the most popular fiction titles in recent years. Montana Magazine contributor Doug Mitchell reviews a pleasingly diverse set of books.
Sweet Thunder
Ivan Doig
Riverhead Books, New York – 2013
Read an author Q&A with Sweet Thunder author Ivan Doig
Ivan Doig has done it again. With his newest offering, Sweet Thunder, one of America's most treasured writers of western literature transports readers to another place and another time.  Using just ink and paper, Doig somehow makes us feel a part of the very landscape and era about which he is writing while at the same time telling a story that keeps the pages turning.
And Sweet Thunder is quite a story. Set in early 20th century Butte, Doig's 12th novel showcases the globetrotting Morrie Morgan as he makes his way back to the mining city. Frequent Doig readers will be familiar with Morgan and will be as delighted as I was to see his return to the page. New Doig readers won't miss a beat because Sweet Thunder and Morgan require no introduction or previous understanding by the reader.
Sweet Thunder stands alone beautifully as a special work and when combined with Doig's Whistling Season and Work Song makes a powerhouse trilogy that belongs on the bookshelf of any reader who enjoys the history of the West.
In this offering, Doig plants us smack in the middle of the conflicts between union activists and the mining company high atop and far below the "Richest Hill on Earth."
Morrie Morgan takes a job as the editorial writer for a new, union-backed opposition newspaper, dubbed "Thunder," and the battle is on.
I'm betting you can see in your mind's eye some of the story line, but Sweet Thunder is much more than any other book that tells a familiar story.
I was most taken with the depth of the characters in which Doig invests in the telling of this story. The relationships between, and challenges faced by, characters we care about from the very first page will likely make this book about different things for different readers.
The love story between Morrie Morgan and his wife, Grace, was the thread that most delighted me. He's not perfect, she's not perfect and the relationship doesn't get within the same zip code of perfect. And yet there is something genuine, charming and vulnerable about it that I will long remember.
Worry not though. If that particular thematic element of the book doesn't sound interesting to you there are countless other treasured threads. Griff and Hoop, Mr. Sandison, and Morgan's opposing editorialist "Cutlass" provide compelling drama that found me dragging the book everywhere I went and sneaking a quick read at every opportunity just to see what would happen next. Woven together through the expert hands of Ivan Doig, these threads make Sweet Thunder a beautiful tapestry indeed.
Lentil Underground – Renegade Farmers and the Future of Food in America
Liz Carlisle
Penguin Group, New York – 2015
Read an author Q&A with Lentil Underground author Liz Carlisle
It's amazing what can come from the bottom drawer of a metal desk on Cruse Avenue in Helena. You see, that's where I pick up advance reader copies of books sent to Montana Magazine for consideration as a potential book review. In early November, I swung by the office, left my truck running outside and was given a pile of books that had accumulated in the drawer. I always read the publisher information and at least the first chapter of each book to see if it might be a good fit.
From nearly the moment I began reading Lentil Underground I knew this book was a hit in the making. I remember literally, stopping reading – still in the prologue – putting the book down and breathing. This was going to be an important story that would spark a significant discussion about farming and food in Montana and across America.
I devoured the book and went on a search for the author, Liz Carlisle, a native Montanan who I found in Berkeley, California, (now Dr. Carlisle, PhD) where she is a fellow at the University of California. I wanted to know more about the genesis of her research and the roots, if you will, of this landmark book about a group of farmers in Montana who have been at the forefront of the organic farming and emerging pulse crop movement. Carlisle was kind enough to do a lengthy and far reaching interview with me that you can find at www.MontanaMagazine.com. Our interaction confirmed that in Carlisle and her book we have on our hands something very special.
Lentil Underground is a very well researched, expertly written book about how, through the courage and conviction of a few farmers, Montana went from growing virtually no pulse crops two decades ago to being one of the top five largest producers of peas and lentils in the country. It is the story of Dave Oein and his company, Timeless Seeds, and a dedicated group of agricultural innovators who, acre by acre, are changing the very landscape of Montana.
In many ways, this shift in approach is tantamount to a social revolution. The farm economy has an organizational inertia that is at the core of the very social structure of Montana's small towns. Challenging that view equates to challenging the status quo – the very idea of how things should be and how they should look.
This kind of book could easily fall into what I call the "soapbox" category where the author uses the nonfiction moniker to prove a point or take a position. Carlisle rises above that trap and presents a clear-eyed, warts-and-all book that examines the case of the "renegade farmers" complete with the problems they face and the promise the future could hold.
Equally impressive is that, as we would expect from a Montana native, Carlisle does all of this not from the safety of her office. No, she gets her hands dirty and sees for herself first-hand what's "on the ground" in her home state.
This combination of serious academic research and authentic human interaction is perhaps what makes Lentil Underground not only an important book but a great read. Carlisle introduces us to Oein and a plethora of other members of the Lentil Underground in a way that is accessible, personal and compelling. The writing is top notch and the reader is allowed to make his or her own conclusions about the information presented.
I learned a ton from reading Lentil Underground including the fact that the delicious garnish on my favorite dish at Blu Funk's Bigfork restaurant Showthyme is, in fact, a specialty lentil called Black Beluga. Who knew?
The publisher materials and book cover evoke the name of Omnivore's Dilemma author Michael Pollan, and while that might help sell a few books, I'm not sure it is a very good comparison. Don't get me wrong, I liked Omnivore's Dilemma, but in my view Lentil Underground is the better book. Perhaps that's because it is about Montana, includes some people I know and others about whom I have heard. But I think it's more than that. I think it is about the purity of Carlisle's approach to the subject and the care she takes to be honest and fair.
My guess is you are going to hear a lot in the coming months and years about Liz Carlisle, her book and her work. As for me, I'm heading back downtown to see what else is in the bottom of that desk drawer
chasers of the light
Tyler Gregson
Penguin Group, New York – 2014
First, an admission. I've known Tyler Gregson since he was a kid. I watched he and his sisters grow up here in Helena (all named after baseball legends by the way) and have to admit when I was asked if I had read Tyler's book of poetry I was a bit taken aback. Tyler? Poetry?
Yes. Tyler. Poetry. Wow.
chasers of the light is a transcendent experience for a reader like me who is not inclined toward poetry. It is accessible, smart, creative and achingly beautiful.
Gregson is clearly a creative soul.
He is an expert photographer and clearly has a mind that sees things through a lens that sees light and hope and love in a way that few do. More important though, through the written word – in this case poetry – Gregson can somehow open his mind's eye to the rest of us.
The poems that comprise chasers of the light are short, compelling and unified around the themes of wonder, beauty and love. As we stood in line at the Montana Book and Toy Co. to get our copy signed by the author, my wife Julie and I were by far the oldest people in the crowd, many of whom had driven hundreds of miles to be there and visit with Gregson about how his poems had connected to their life journeys. It was impressive indeed and as I cracked open my copy over a cup of coffee the next morning, I too found a connection with Gregson's work.
Gregson uses some interesting practices in presenting some of the poems in chasers of the light.
For example, in some cases he will limit himself to the page of a book. Using only a blackout pen to eliminate the words he does not want to use. The remaining words make up the entirety of his poem in a manner that is both visually interesting and intellectually thought provoking.
Gregson's book will stay on the Mitchell family coffee table for a long time and I would guess it's only the opening salvo in what promises to be a promising career for a gifted writer.
The Goldfinch
Donna Tartt
Little Brown, London – 2014
The runaway bestseller and winner of the 2014 Pulitzer Prize for fiction The Goldfinch will be coming out in paperback in the United States in early April. And it's a lot of paper.
I naively ordered my paperback version late last year not understanding it would take weeks to arrive from London. When the book finally cleared customs, it came in at a stout 864 pages and in a tiny font that had me reaching for my seldom-used reading glasses.
I have to admit that while I appreciate the magnitude and scope of the book as a literary achievement, it is not one that I'll list in my top 10.
The title refers of course to the Dutch master painting of the same title that has recently been on tour in the United States along with "The Girl with a Pearl Earring" and other priceless pieces. Told in the first person by the book's main character, Theo Decker, The Goldfinch weaves an intriguing tale that begins with Theo as a teenager visiting the Metropolitan Museum of Art with his mother to see the painting on the way to a meeting at school. There is an explosion, Theo's mother is killed and Theo leaves the museum injured, in a daze and with the painting in a canvas bag.
What follows is a circuitous, creative and somewhat creepy tale that takes us from New York to Las Vegas and back as Theo comes of age and the painting comes to be, for him, a little bit like what the "One Ring" came to be for Schmiegel and Bilbo Baggins.
The characters are beautifully crafted, mostly flawed people to whom I found it hard to connect. I guess that's why I didn't love The Goldfinch. I like books that bring me in close and I felt like The Goldfinch kept me at a distance.
I won't argue with those who argue the book is a "must read." By page 400 or so, I was fully invested and couldn't put it down. It is that good. In fact, if I had to pick an historical work with which to compare it, I would pick Fyodor Dostoevsky's The Brothers Karamazov. Both are an investment, both are dark and both are important.
So understand going in that The Goldfinch is an experience in 21st century literature rather than a feel-good pager turner.
Doug Mitchell is the Montana Magazine book reviewer. He writes from Helena.