The Montana Magazine would like to wish all our readers a very happy holidays.
In the spirit of the season, we've compiled a couple of our 2014 stories that will leave you with those warm and fuzzies appropriate for the holiday season.
First is the story of how the town of Whitehall saved the Star. The Star is the town's one and only  movie theater, which was close to closing because it was lacking the digital technology to play newer films. Until the people of Whitehall rallied around it.
Next is the heartwarming story about the horses that change lives at the Bitterroot Therapeutic Ranch near Corvallis. The unique and patient horses and trainers at the ranch help people of all abilities find independence. BTR is one of only six ranches in Montana certified by the Professional Association of Therapeutic Horsemanship International.
And finally is the story of a small run farm in Northwestern Montana where the dairy cows are treated like members of an extended family. The Hedstrom family owns and operates the Kalispell Kreamery, and have for 35 years. "People like the concept that these cows are truly happy," Mary Tuck said of her family's farm.
We hope you've enjoyed revisiting some of these special stories from around Montana. And, we hope you enjoy your holiday season!
– Jenna
The light of candles really does dance inside the rooms of the Lewis and Clark Caverns. That's what Missoulian reporter Kim Briggeman and photographer Kurt Wilson found when they tagged along on a candlelight tour of one of Montana's most unique state parks. Here's a preview of their story:
The static LED lamps that lit your way for the first half of the descent had replaced incandescent light bulbs in a $1 million makeover completed just a few years ago. Those lights went AWOL midway through the ever-descending route, at the aptly named Halfway Room.
Your candlelight danced off the cavern walls. Whereas light came from stationary sources above, here it was fainter and moved along with you.
You noticed a lot of things in the dark that you wouldn't in the light. What went unseen or obscured played deliciously with the imagination. Darkness isn't something to be conquered. It's part of a bigger canvas that deep in the earth, high on a mountain, in the middle of a city or awash in open prairie is as essential as oxygen to the human species and most others.
You found yourself listening closely for sounds of the cave and sniffing for its scents. There weren't many of either beyond the footsteps and subdued buzz your group made, and a rare whiff of dampness.
Here you can follow along on the rest of the journey. Here you can find a slideshow of the journey.
The popular candlelight tours are offered during the holiday season. According to the Missoulian: reservations are filled for the six days of holiday candlelight tours at Lewis and Clark Caverns State Park. Tickets go on sale each year on the Monday following Thanksgiving. The main visitor center on Montana Highway 2 is open all year. Summer tours of the caverns are conducted from May 1 to Sept. 30.
– Jenna
With 2014 coming to a close it's hard not to look back and remember more than a few great stories we found to share with you inside Montana Magazine.
But what did you, our online readers, decide were their favorites? Here's our top four most popular stories of 2014, as decided by all our online friends.
What'd we miss? Tell us your favorite feature of 2014 by emailing editor@montanamagazine.com.
– Jenna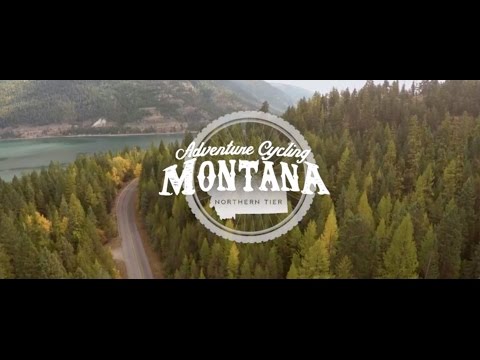 Need a little at-your-desk getaway to get you through the day? Take a trip from Libby to Whitefish with the Adventure Cycling Association in the organization's newly released short film. It features a ride along the Northern Tier route, which goes cross-country from Anacortes, Washington, to Bar Harbor, Maine.
The film highlights the section of the route between Libby and Whitefish, much of it along Lake Kookanusa. Safe to say, there's some OK scenery to take in . It'll have you daydreaming about road riding on warmer days. It was made by Rachel Stevens and Bobby Jahrig.
This is the first in a series of films featuring bike travel in Montana. Adventure Cycling produced the series in partnership with a group called Epic Montana and the Montana Film Office and each one highlights one of the five Adventure Cycling Routes in the state (totaling about 3,500 miles).
– Jenna
No surprise here: Montana cowboys and cowgirls kicked butt at  Las Vegas during the National Finals Rodeo.
Here's the story for the Associated Press. Recognize any names?
Montana cowboys and cowgirls stormed the latest Wrangler National Finals Rodeo with multiple successes over 10 days of the average competition in Las Vegas recently, culminating in several top-10 placings in the year-end PRCA world standings.
Billings team roper Clay Tryan, a header, along with heeler Jade Corkhill (Fallon, Nevada), led the Treasure State's contingent, winning both the average and the world championship. Tryan garnered a total of $220,058 for the year, while garnering his third world title (2005, 2013-14).
Clay, who is the cousin of 2012 NFR qualifier Chase Tryan of Helena, is now a 13-time NFR qualifier, and is just $3,000 shy of $2 million career earnings.
Bull rider Beau Hill of West Glacier placed third in the average and fourth in the world standings, collecting a year's earnings of $148,911. Ty Erickson of Helena finished runner-up in the steer wrestling, and seventh overall, pocketing $123,116.
Team roper Dustin Bird (header) of Cut Bank placed 11th and in the average and sixth in the year-end, for $146,731. In bareback bronc riding, Power's Jessy Davis took 11th in the average and 14th in the overall, earning $75,757. 
Culbertson native Lisa Lockhart of Oelrichs, South Dakota, captured the barrel racing average championship and placed runner-up in the world standings. She pocketed a total of $265,514.
Tie-down roper/team roper Trevor Brazile (Decatur, Texas), a former Last Chance Stampede titlist, claimed his 12th PRCA all-around crown.
Can you name all the 'E' towns under the Big Sky? Hint: There are 11.
Having trouble? Let this slideshow from photographers across the state help out.
– Jenna
It's been said that this cooper-colored guy got more attention for his 1889 Kentucky Derby win than news that Montana was granted statehood.
Spokane, foaled at a ranch new Twin Bridges, was a big deal back then. And in 2008, his racing accomplishments earned him a spot in the Montana Cowboy Hall of Fame.
Here's more on Montana's most famous horse from writer Cathy Melin Moser:
Copper-colored Spokane was foaled in 1886 at Noah Armstrong's Doncaster Ranch near present day Twin Bridges. Cowboys who worked the silver-mining magnate's ranch gave the colt his early training as a racehorse.
Spokane showed talent and heart in his early races. Then on May 9, 1889, he joined eight fiery 3-year-olds at Churchill Downs for the 1 ½ mile Kentucky Derby. For the first time he would compete against his future rival, Proctor Knott, favored to win the Derby. Chestnut-colored Knott had won the prestigious 1888 Futurity Stakes and was named horseracing's "Two-Year-Old Horse of The Year."
At the start of the race, Proctor Knott surged ahead. Spokane lagged in fifth place but at mid-race uncorked an explosion of speed that quickly cut down the distance separating him from Proctor Knott. The big chestnut responded to Spokane's challenge with blazing speed of his own.
Twenty-five thousand spectators stood, their cheers drowning out thundering hoof beats as Spokane raced into history. Judges proclaimed Spokane had beaten Proctor Knott "by a flaming nostril," and he'd won the Derby in world record time of 2 minutes and 34 ½ seconds.
Six months later, Nov. 8, 1889, Montana was granted statehood.
Her residents hotly debated which was more noteworthy: statehood or Spokane's victory.
– Jenna
Here's a cool Montana story focused on a study about wolverines – an animal biologists know little about.
As Ravalli Republic reporter Perry Backus tell us in his story, biologist believe several wolverines were caught on motion-activated cameras set up by biologists who attracted the animals with a carcass.
Images of wolverines were captured at eight different sites. They also captured fur that will allow them to identify and study the wolverines more thoroughly.
The smell of rotting meat didn't just attract wolverines.
For the last two winters, that's just what Bitterroot National Forest wildlife biologist Andrea Shortsleeve has done in an attempt to better understand the habits of forest predators on the prowl.
Last winter, the photographs taken on 60 different bait sites offered a glimpse into the lives of bobcat, marten, fox, mountain lion and even a trio of squabbling eagles in the Bitterroot and Sapphire mountains.
The main focus of the study was the most secretive predator of all.
No one knows for sure just how many wolverines there are on the Bitterroot National Forest. Before Shortsleeve and her crew began setting their motion-sensitive trail cameras up to document critters drawn to the smell of rotting meat, no one even knew where they ventured.
See the enter slideshow of images here.
- Jenna