Big news for a big part of Yellowstone National Park: The historic Lake Yellowstone Hotel has been designated a National Historic Landmark.
It is the oldest hotel inside America's first national park.
Initially designed by architect N.L. Haller of Washington, D.C., and constructed in 1891, the Lake Yellowstone Hotel was entirely reconceived in the first decades of the 20th century by architect Robert C. Reamer as a grand resort hotel displaying the Colonial Revival style. Currently the park's oldest hotel in existence, the building overlooks the north shore of Yellowstone Lake. 
This comes after a $28.5 million renovation, according to the Billings Gazette story.
 Here's a little more about the renovation: 
Perched along the north shore of Yellowstone Lake, the hotel is far from major attractions like Old Faithful and the Upper Falls of the Yellowstone River, so it's usually less crowded, hosting visitors who typically move at a slower pace.
The hotel first opened in 1891 as a three-story clapboard structure with 80 guest rooms. Between 1903 and 1937, a series of expansions led by architect Robert Reamer turned the hotel into a 210-room Colonial Revival style lakefront complex beloved for a its Ionic columns and genteel sun room, which still hosts string quartets and pianists performing for visitors taking a sweeping view of the largest alpine lake in North America.
Adding bathrooms to each guest room has cut the current room count to 153.
Learn more about our upcoming issue featuring Yellowstone here.
It's time to get your summer park plans in order. The mild winter around Montana means that the parks are beginning to awake early this year.
Portions of roads inside Yellowstone National Park (open to bikes only for a few weeks) are set to open Friday.
The road from West Yellowstone and Mammoth Hot Springs to Old Faithful and the Grand Canyon of the Yellowstone will open for the season at 8 a.m. 
Each spring, Yellowstone National Park plow crews clear snow and ice from 198 miles of main road, 124 miles of secondary roads and 125 acres of parking lots inside the park, as well as 31 miles of the Beartooth Highway outside the park's Northeast Entrance to prepare for the summer season.
Additional road segments in the park will open during May as road clearing operations progress. 
We'll be taking readers into both Yellowstone and Glacier in our upcoming Park-to-Park issue.
As for Glacier – here's a look at plowing progress on Going-to-the-Sun-Road.
Want more of Montana all year? Subscribe today and don't miss our Park-to-Park issue.
– Jenna 
We've got National Parks on the brain this month at Montana Magazine for a couple reasons.
For one, we're preparing to send our Park-to-Park issue where we'll take readers from Yellowstone to Glacier and back again in a couple ways (spoiler alert: there's a map and a couple can't-miss features.)
For example, take writer Kelsey Dayton's story on Yellowstone's "geyser gazers."
The feature showcases not only the geysers of Yellowstone, but the self-appointed stewards of the geysers. They're a set of people who dedicate years' worth of vacation time to documenting the activity of geysers. Their data allows rangers to guide millions of visitors around the park, so they can have their own geyser gazing experiences.
Our Park-to-Park issue ships to subscribers on April 30.
Also, the National Parks Service launched its Find Your Park campaign this week, as it gears up for the 2016 centennial of the National Parks System. The new website includes several videos – including this one where Grand Prismatic in Yellowstone makes an appearance.
Still want more from Glacier and Yellowstone? We'll help you find the people and place that make Montana's national parks special year round in Montana Magazine. Subscribe today!
– Jenna
We noted earlier this year that Montana bears were waking up pretty early this winter, as the unseasonably warm temperatures had them coming out of hibernation in mid February.
They were hungry then. But perhaps not as hungry as just before they went to sleep last winter. National Geographic featured a bear in the Beartooth Mountains inside Yellowstone National Park stealing pine nuts last winter as its Photo of the Day (by Drew Rush) today on Facebook. The grizzly was captured by a "camera trap" set up by Rush and tripped by the bear.
It's easy to see why it's the Nat Geo Shot of the Day. Rush a set of awesome of photos of the bear digging in the Yellowstone snow to find much need food.
But he also had a close encounter with a hungry bear while checking the camera that left him shaken but unhurt. Rush describes the experience for National Geographic in this Proof blog post.
When he finally retrieved the camera, he found the awesome shot of the Grizzly – as well as some other awesome wildlife shots.
Check them out!
– Jenna
Thinking about the best way to get out and enjoy the springtime in Montana?
How about a bike ride? As usual with outdoor adventures, Montana offers some pretty spectacular road rides.
First, there are 49 miles of roads inside Yellowstone that have just been opened. As Billings Gazette reporter Brett French writes, it's a great way to see the park – but riders better come prepared. 
A bicycle trip into Yellowstone this time of year is not to be undertaken lightly. The quickly changing weather can be challenging. Snow and ice may still cover sections of road, which may be lined with tall snowbanks. Pullouts may remain snow packed. Extra caution is advised traveling through the five-mile long road construction zone north of Norris Junction, which is not paved and may be muddy.
Still, we think the scenery would trump any bad weather. 
For perhaps a less intense ride, here's our story about Tour de France competitor and Bozeman native TJ van Garderen – who shared with us his favorite Montana road ride in a feature last year.
It's only a one day committment, and the scenery's not bad outside Bozeman either. 
– Jenna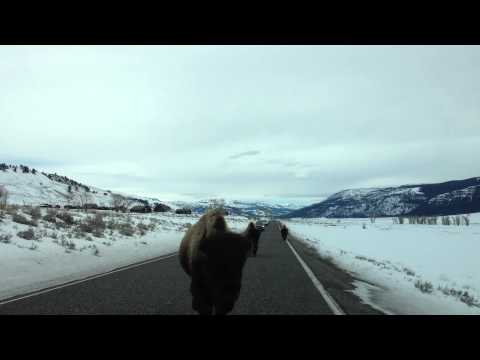 This Yellowstone bison did not like that this car was in his way. Yellowstone visitor Tom Carter took this video of the charging bison near Lamar. Valley.
The insurance agent for the vehicle's owner said the head-butt did almost $2,800 in damage.
Reminds me of this gentle reminder we ran with our Glacier mountain goat story last summer about the rules of wildlife interaction in national parks.
 As usual, the rules are there for a reason.
Speaking of national parks: We're heading to Yellowstone to do some exploring in our upcoming special Park-to-Park issue. Subscribe today and don't miss a Montana moment.
– Jenna 
Snow is the most abundant thing in Steve Fuller's life each winter.
The Yellowstone National Park resident has been the "winter keeper" at Canyon Village. It's a job that comes with plenty of tasks, but not much company. Here's the story from the Associated Press:
He was hired in 1973 and now works full time at Canyon for Xanterra Parks and Resorts Inc. "I've lived at Canyon year-round ever since," Fuller said. "Seems like last week."
His nearest neighbors — 16 miles to the south at Yellowstone Lake — are National Park Service rangers and the only other winter keeper in the park keeping an eye on the facilities at Lake Village.
Originally, he was hired only to remove snow from roofs, but more duties came when he was named maintenance manager 30 years ago, such as summer project planning, preparing for contractors and hiring employees, Fuller said.
Still, snow remains a chief component in his world, especially when it's measured by the foot.
Fuller raised two daughters in the park. Today, he keeps busy fending off snow and bears, among other things, while living in a 100-year-old home.
Fuller's house of 42 years is at least 100 years old. It may date back to the 19th century.
"Certainly 1910, no doubt about that," he said.
The place is a bit off the beaten path, a mile south of Canyon Village. From his front porch, the Lower Falls of the Grand Canyon of the Yellowstone River are little more than a stone's throw away. From a picture window, snow-softened hills highlighted with pine seem to undulate to infinity.
The moon and sun backlight the falls' vapor plume. Fuller can hear the Upper Falls.
"It's like a megaphone pointed at my front step," Fuller said.
What a cool life. And even better?
"Never felt lonely — ever," Fuller said.
It's been an unseasonably warm February in many parts of Montana, and while it's not yet spring, signs of spring are beginning to pop up around the state.
Or, should we say, wake up.
Grizzly bears must've felt the warmth lately, as bears have been spotted wide awake and wondering around places like Yellowstone National Park. As the Billings Gazette reported last week:
The first confirmed report of grizzly bear activity in Yellowstone occurred on Monday. A grizzly bear was observed late in the afternoon, scavenging on a bison carcass in the central portion of the park.
With bears emerging from hibernation, hikers, skiers and snowshoers are advised to stay in groups of three or more, make noise on the trail and carry bear spray. The same advice goes for those taking guided snowmobile trips in Yellowstone.
Bears begin looking for food soon after they emerge from their dens. They are attracted to elk and bison that have died during the winter. Carcasses are an important enough food source that bears will sometimes react aggressively when surprised while feeding on them.
That point was proven with the above photo from Yellowstone of a big bear feeding a bison carcass. Yellowstone National Park posted the photo on its Facebook page, crediting Angela Trinka for the photo.
Park officials noted the warm weather in a press release about the grizzlies. The release shared safety rules about watching bears in the park and noted that anyone who spots a bear should alert park officials ASAP.
– Jenna