Some people love watching wildlife. Some people love chasing storms.
Some people, as we told readers in our May/June issue, love gazing at geysers. 
Our "Faithful Gazers" story introduces a set of people who have fallen in love with the immense set of geysers in Yellowstone National Park. Their work to observe and record the geyser behavior is going a long way to help park staff and visitors learn about the geysers.
It's a really cool story about a set of cool people (subscribe today to get all our full stories).
But first what, exactly, is a geyser? We're glad you asked:
Geysers are hot springs with constrictions in their plumbing, usually near the surface, that prevent water from circulating freely to the surface where heat would escape.

There are more geysers in Yellowstone National Park than anywhere else on the planet.

Though born of the same water and rock, what is enchanting is how differently they play in the sky. Riverside Geyser, in the Upper Geyser Basin, shoots at an angle across the Firehole River, often forming a rainbow in its mist. Castle erupts from a cone shaped like the ruins of some medieval fortress. Grand explodes in a series of powerful bursts, towering above the surrounding trees. Echinus spouts up and out to all sides like a fireworks display of water. And Steamboat, the largest in the world, pulsates like a massive steam engine in a rare, but remarkably memorable eruption, reaching heights of 300 to 400 feet.

– Courtesy of the National Parks Service
By Kelsey Dayton
"Go. Come on," Mara Reed, 18, whispered staring at the bubbling, steaming thermal feature in front of her.
"Come on," she said with more urgency staring at Big Cub and Little Cub, two geysers in the Upper Geyser Basin of Yellowstone National Park.
Ryan Maurer, 19, stood next to her, frantically scribbling notes on each puff of steam and gurgle of water, calling in updates on his radio. His eyes darting across the geyser basin, head cocked so he could listen for sounds of other thermal features in the area.
Yellowstone is home to the world's largest concentration of geysers. Visitors travel from all over to witness eruptions, but a dedicated few – like Reed and Maurer – spends weeks or even months in the park, waiting, watching and logging data.
These are geyser gazers.
"Geyser gazers are crazier than wolf watchers, but not as crazy as cave divers," Maurer said.
To learn more about the current activity of geysers inside Yellowstone National Park, click here.
The term "geyser gazer" refers to someone dedicated to recording data on eruptions, spending weeks each year in the park taking notes and fastidiously watching and waiting – sometimes for hours or days – for their favorite thermal features to shoot water skyward.
Most gazers are members of the Geyser Observation and Study Association, which logs data online.
To read the entire Geyser Gazer story, subscribe today. 
No matter where you are, it's easy to keep track of Montana these days.
We've compiled a list of web cams – with links! – for everything from ski mountains to national parks.
As the state thaws, the cams are a good way to keep track of spring's progress through the web cams.
You can check in on Lake McDonald in Glacier, or the geysers in Yellowstone.
Take second to check out our Web Cams of Montana page.
Enjoy!
– Jenna
It's time to get your summer park plans in order. The mild winter around Montana means that the parks are beginning to awake early this year.
Portions of roads inside Yellowstone National Park (open to bikes only for a few weeks) are set to open Friday.
The road from West Yellowstone and Mammoth Hot Springs to Old Faithful and the Grand Canyon of the Yellowstone will open for the season at 8 a.m. 
Each spring, Yellowstone National Park plow crews clear snow and ice from 198 miles of main road, 124 miles of secondary roads and 125 acres of parking lots inside the park, as well as 31 miles of the Beartooth Highway outside the park's Northeast Entrance to prepare for the summer season.
Additional road segments in the park will open during May as road clearing operations progress. 
We'll be taking readers into both Yellowstone and Glacier in our upcoming Park-to-Park issue.
As for Glacier – here's a look at plowing progress on Going-to-the-Sun-Road.
Want more of Montana all year? Subscribe today and don't miss our Park-to-Park issue.
– Jenna 
We noted earlier this year that Montana bears were waking up pretty early this winter, as the unseasonably warm temperatures had them coming out of hibernation in mid February.
They were hungry then. But perhaps not as hungry as just before they went to sleep last winter. National Geographic featured a bear in the Beartooth Mountains inside Yellowstone National Park stealing pine nuts last winter as its Photo of the Day (by Drew Rush) today on Facebook. The grizzly was captured by a "camera trap" set up by Rush and tripped by the bear.
It's easy to see why it's the Nat Geo Shot of the Day. Rush a set of awesome of photos of the bear digging in the Yellowstone snow to find much need food.
But he also had a close encounter with a hungry bear while checking the camera that left him shaken but unhurt. Rush describes the experience for National Geographic in this Proof blog post.
When he finally retrieved the camera, he found the awesome shot of the Grizzly – as well as some other awesome wildlife shots.
Check them out!
– Jenna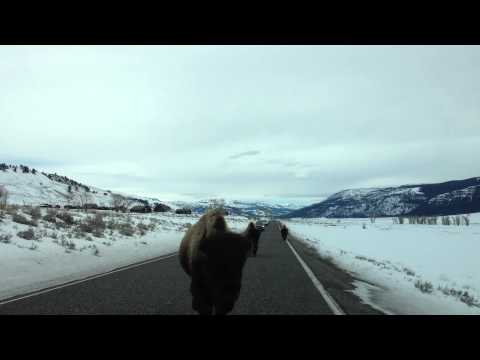 This Yellowstone bison did not like that this car was in his way. Yellowstone visitor Tom Carter took this video of the charging bison near Lamar. Valley.
The insurance agent for the vehicle's owner said the head-butt did almost $2,800 in damage.
Reminds me of this gentle reminder we ran with our Glacier mountain goat story last summer about the rules of wildlife interaction in national parks.
 As usual, the rules are there for a reason.
Speaking of national parks: We're heading to Yellowstone to do some exploring in our upcoming special Park-to-Park issue. Subscribe today and don't miss a Montana moment.
– Jenna 
Snow is the most abundant thing in Steve Fuller's life each winter.
The Yellowstone National Park resident has been the "winter keeper" at Canyon Village. It's a job that comes with plenty of tasks, but not much company. Here's the story from the Associated Press:
He was hired in 1973 and now works full time at Canyon for Xanterra Parks and Resorts Inc. "I've lived at Canyon year-round ever since," Fuller said. "Seems like last week."
His nearest neighbors — 16 miles to the south at Yellowstone Lake — are National Park Service rangers and the only other winter keeper in the park keeping an eye on the facilities at Lake Village.
Originally, he was hired only to remove snow from roofs, but more duties came when he was named maintenance manager 30 years ago, such as summer project planning, preparing for contractors and hiring employees, Fuller said.
Still, snow remains a chief component in his world, especially when it's measured by the foot.
Fuller raised two daughters in the park. Today, he keeps busy fending off snow and bears, among other things, while living in a 100-year-old home.
Fuller's house of 42 years is at least 100 years old. It may date back to the 19th century.
"Certainly 1910, no doubt about that," he said.
The place is a bit off the beaten path, a mile south of Canyon Village. From his front porch, the Lower Falls of the Grand Canyon of the Yellowstone River are little more than a stone's throw away. From a picture window, snow-softened hills highlighted with pine seem to undulate to infinity.
The moon and sun backlight the falls' vapor plume. Fuller can hear the Upper Falls.
"It's like a megaphone pointed at my front step," Fuller said.
What a cool life. And even better?
"Never felt lonely — ever," Fuller said.
It's been an unseasonably warm February in many parts of Montana, and while it's not yet spring, signs of spring are beginning to pop up around the state.
Or, should we say, wake up.
Grizzly bears must've felt the warmth lately, as bears have been spotted wide awake and wondering around places like Yellowstone National Park. As the Billings Gazette reported last week:
The first confirmed report of grizzly bear activity in Yellowstone occurred on Monday. A grizzly bear was observed late in the afternoon, scavenging on a bison carcass in the central portion of the park.
With bears emerging from hibernation, hikers, skiers and snowshoers are advised to stay in groups of three or more, make noise on the trail and carry bear spray. The same advice goes for those taking guided snowmobile trips in Yellowstone.
Bears begin looking for food soon after they emerge from their dens. They are attracted to elk and bison that have died during the winter. Carcasses are an important enough food source that bears will sometimes react aggressively when surprised while feeding on them.
That point was proven with the above photo from Yellowstone of a big bear feeding a bison carcass. Yellowstone National Park posted the photo on its Facebook page, crediting Angela Trinka for the photo.
Park officials noted the warm weather in a press release about the grizzlies. The release shared safety rules about watching bears in the park and noted that anyone who spots a bear should alert park officials ASAP.
– Jenna